GO Smart allows you to generate reports that are designed specifically to address NEA/NASAA grant requirements. In order to use these reports to their fullest extent, you will need to build your cycles with all of the necessary elements. Follow this guide while you're building your cycles to ensure that you are set up for success.
NOTE: Although you will pull them in very much the same way, NEA and Locations reports must be pulled separately to collect the data from both of these template pages in the grant application and/or final report. 
Navigate to the Reports tab > NEA Report OR Locations Report subtab.

Select the Program and Cycle for which you would like to build an NEA or Locations Report.

Applications in the Received status will be selected by default, but you can include any status(es).

Sort by using the Ordered By and Direction drop-down menus.

Click Build Report.

View an HTML version of the report by clicking View Report.

Download a spreadsheet by clicking Download to Excel.

Click Build New Report to start over.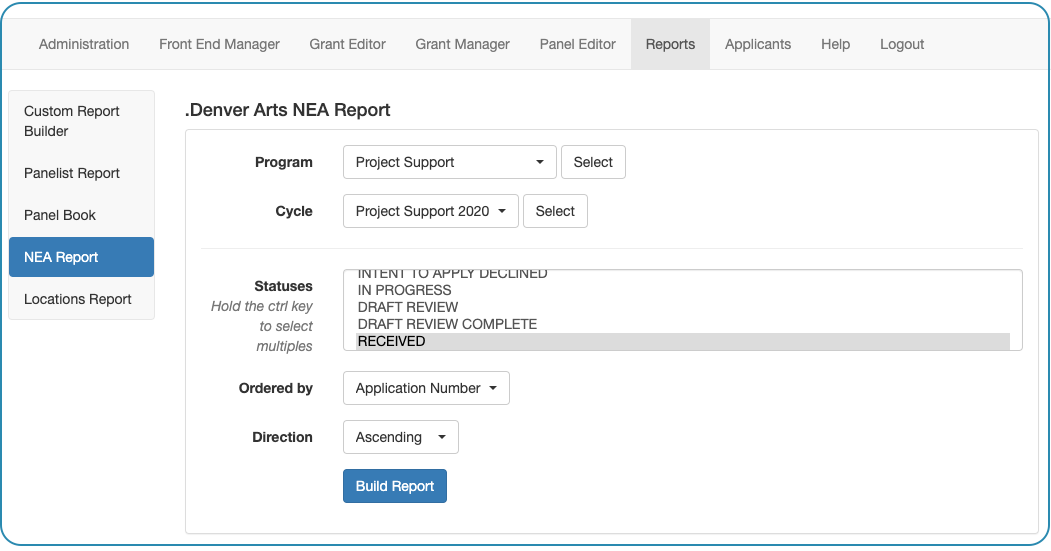 Select NEA Report or Locations Report and quickly build either report to send to the NEA.