The Media Library Selection page is a dynamic page that works with your applicants' Media Library. It is the second step of a two-step process that allows your applicants to attach images, audio, video, and/or document files to their applications. Before applicants can select media files to attach to their applications, they must first upload the desired items to their Media Library. Learn more about all of these media tools here.
As an alternative to, or along with, including a Media Library Selection page, you can add file upload questions and/or text fields to a custom narrative page. Upload fields will accept small PDF, DOCX, XLSX, TXT, JPG, and PNG files. Text fields can be used to ask for links to existing video, audio, and visual samples on the web. Learn about creating this type of page or these types of questions here. 
Review this short webinar or this slideshow to learn more about your two options for requesting media so you can select the best option for your grant opportunity. Keep reading this tutorial to learn about using the Media Library Selection page.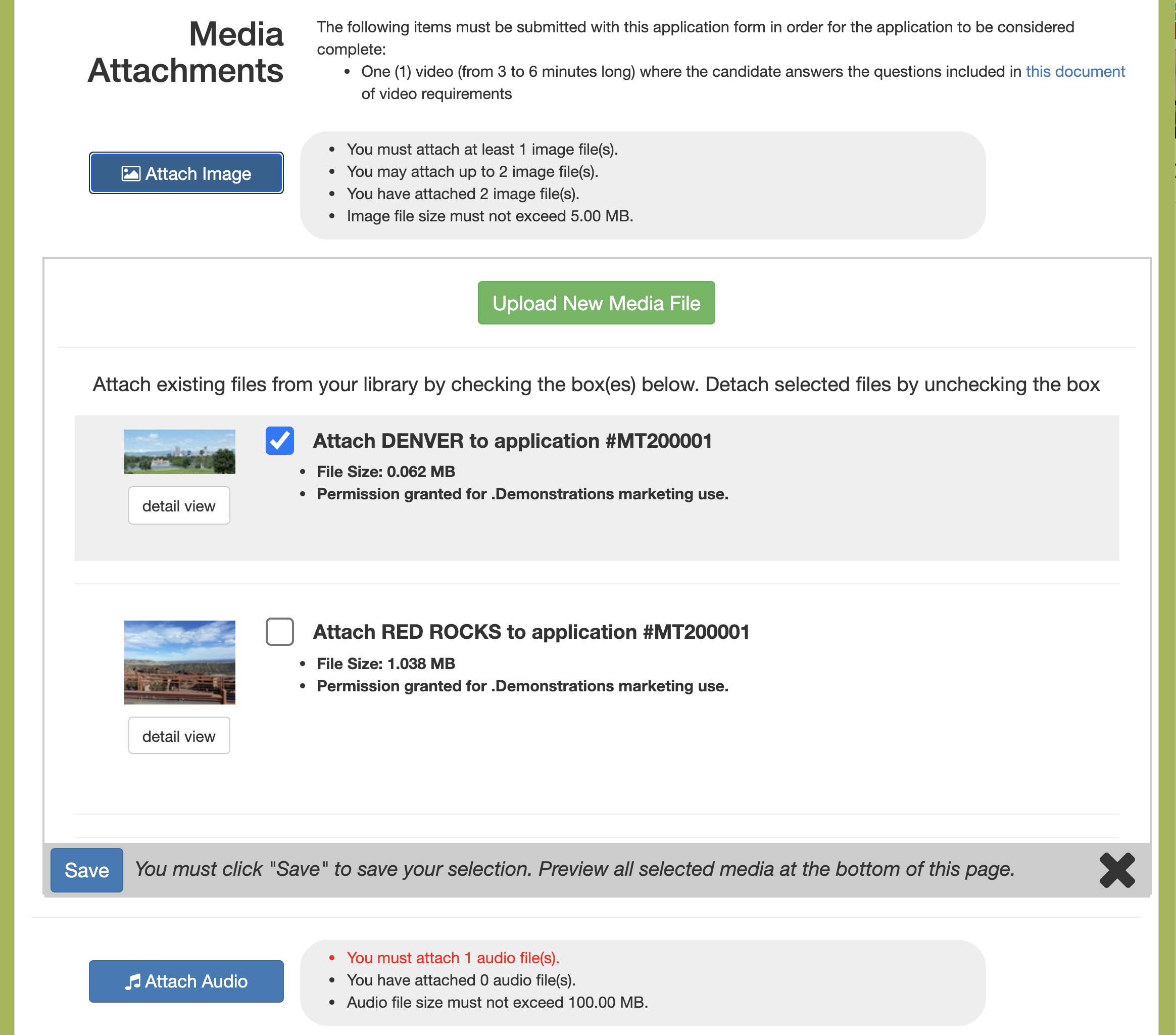 Applicants will see your custom title of the page.
Add your custom Info/Instruction text to direct applicants as to your media requests.
Each accepted media type will display an Attach button that will display the existing media files and the ability to upload additional files.
Applicants will see the parameters you set while editing your Media Library Selection page from the backend. They will see red text where they haven't met or have exceeded your parameters.
Applicants can upload new media files if needed.
Applicants will see their existing media files and can select, or deselect, the files with the corresponding checkbox.
Applicants can close the modal if they want to leave the media type without making a selection.
Applicant view of Media Library Selection page
Info/Instruction Text
When you are adding a Media Library Selection page to your form, you can add Info/Instruction text that will display near the title of the page (in the image above, this text begins with "The following items must be submitted…" Include our template language to instruct your applicants how to best use this page. 
Attached Media / Ordering Info / Instruction Text
You can also add informational text that will appear towards the bottom of the applicant's page, above thumbnails of their selected media. This text can be used to direct applicants to review their selection or to reorder their attachments.  
File Parameters
The final settings you will edit on your Media Library Selection page will set the parameters for the applicants' attachments. File Parameters allow you to set the maximum allowable file size for each media type, establish a minimum amount of media files that all applicants must submit , and set a maximum number of files if desired.  When Max Samples is set to 0, the Attach button for that media type will be hidden and applicants will not be allowed to upload files of that media type .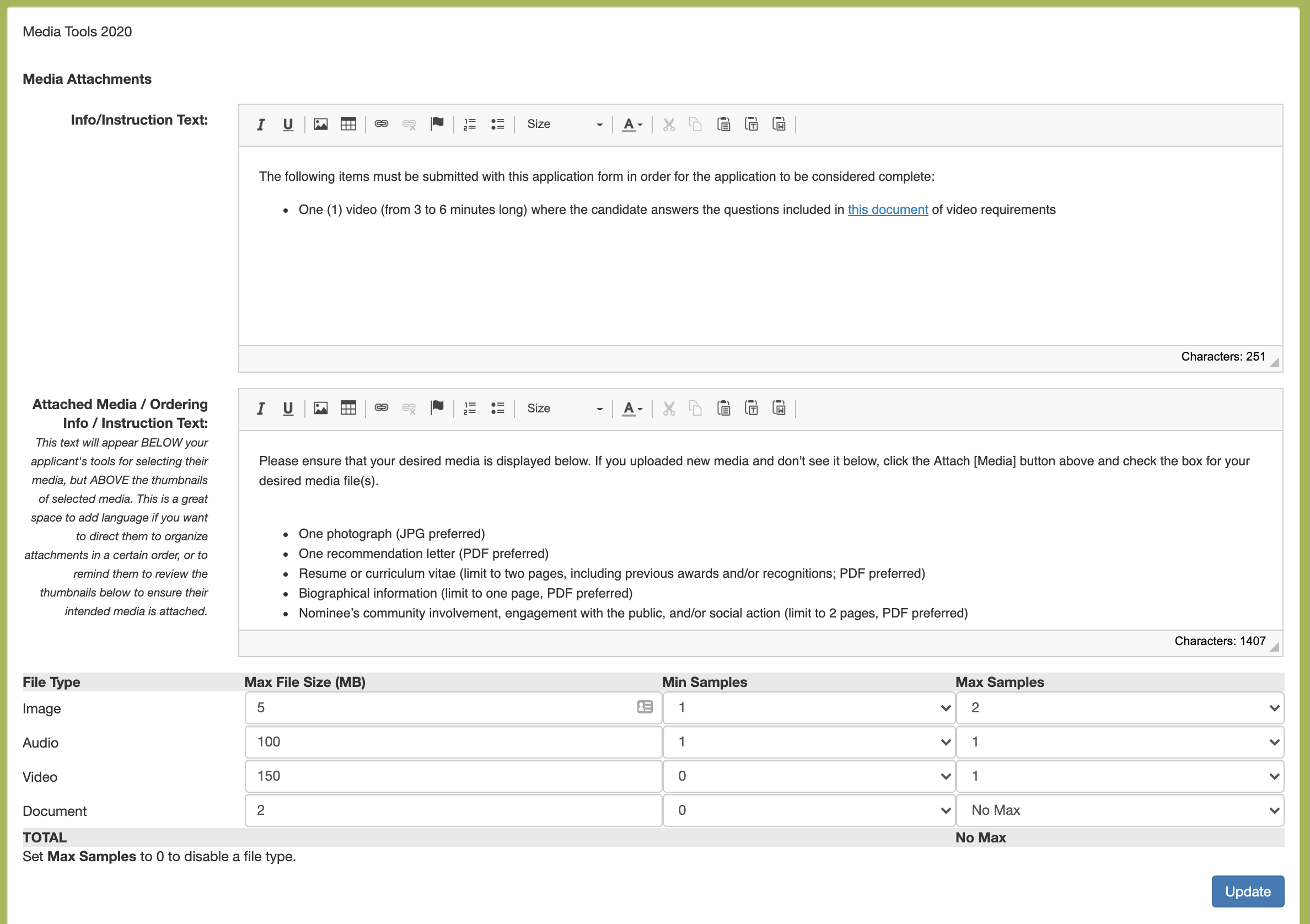 Add Informational/Instruction text that directs the applicant on the required media.
This text box will appear toward the bottom of the page in the application and should be used to direct your applicants to review their selection or order their attachments in a specific way.
Set the parameters for size and number of attachments.
Admin view of Media Library Selection page
Media Report
To view a report that includes all attachments made to the Media Library Selection page, you will build a custom report that includes this Media Library Select page. The inclusion of this page in your Custom Report Builder will generate a secondary report that includes a row for each attachment, by applicant, including any additional data that the applicant included on the upload form of the Media Library.